Give the Gift of Hope this Holiday Season
This year has been so hard for so many people. We know you've been asked to give and give. We want to offer you the opportunity to give one last time for 2020 and make a difference to an individual in Africa that you can form a lasting bond with.
Six students have been part of a Children of Conservation pilot program. Five years ago, they were nominated by their village chiefs, as part of an exchange program between conservationists and Kenyan villages that killed elephants to generate funds. We entered binding agreements with the village chiefs that they would no longer kill elephants if we provided the best education possible for their brightest kids.
So, for the past five years ZERO elephants have been killed by these communities and six smart young people attended great high schools. This summer they graduated and every single one of them was offered a place at university.
They are so impressive and they are the first in their communities to go to university. This is especially important for the girls who are breaking through traditional gender roles.
Now, these six students need YOUR support to be able to take up their places and earn their degrees. You can give them this life-changing opportunity for as little as $96 per month.
The students have taken the opportunity YOU gave them and have grasped it with both hands!

Now we need your help to cover the costs for their first year in university. Their fees are not high, relative to education costs here, but for their families it is an unmanageable amount of money.
Can you sign up as a sponsor for one of these incredible, hard-working young people? Sponsors will receive personal communication from their student, along with updates on their progress in school and a photograph.

If you'd prefer to sponsor a student in increments, we offer the opportunity to make a monthly payment towards their education. Here are the monthly payments for each student: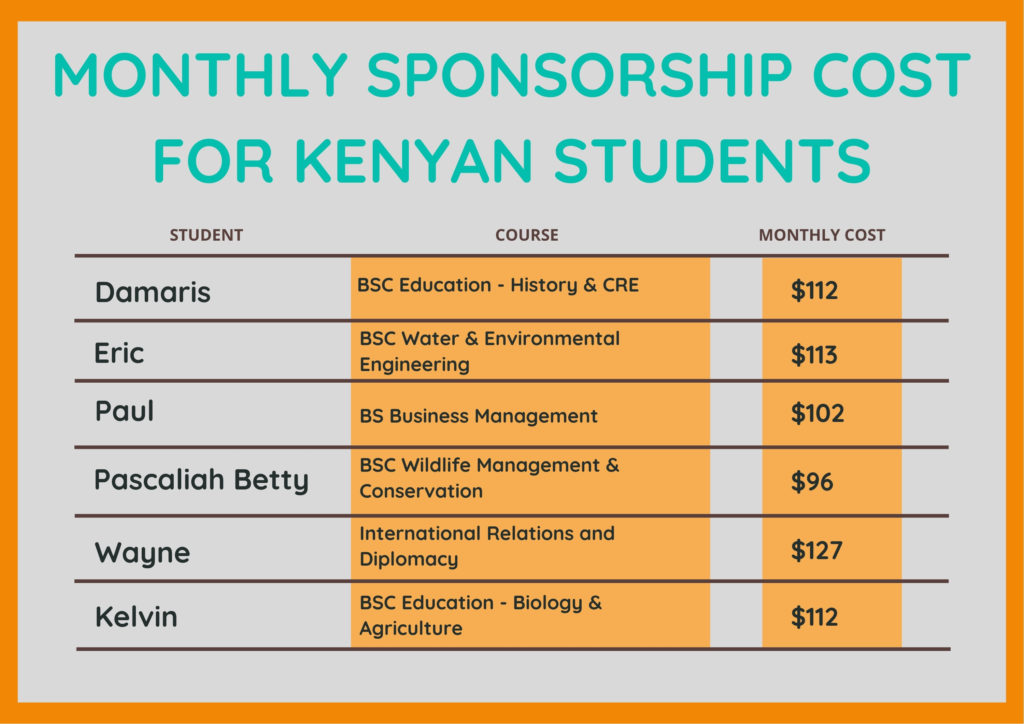 Your contribution will cover their university tuition fees, accommodation, books and living costs.
To sponsor one of these extraordinary kids, click here:
Happy Holidays to you and your family! Thank you for all your support this year.