Award for contributions to conservation presented by icon Dr. Jane Goodall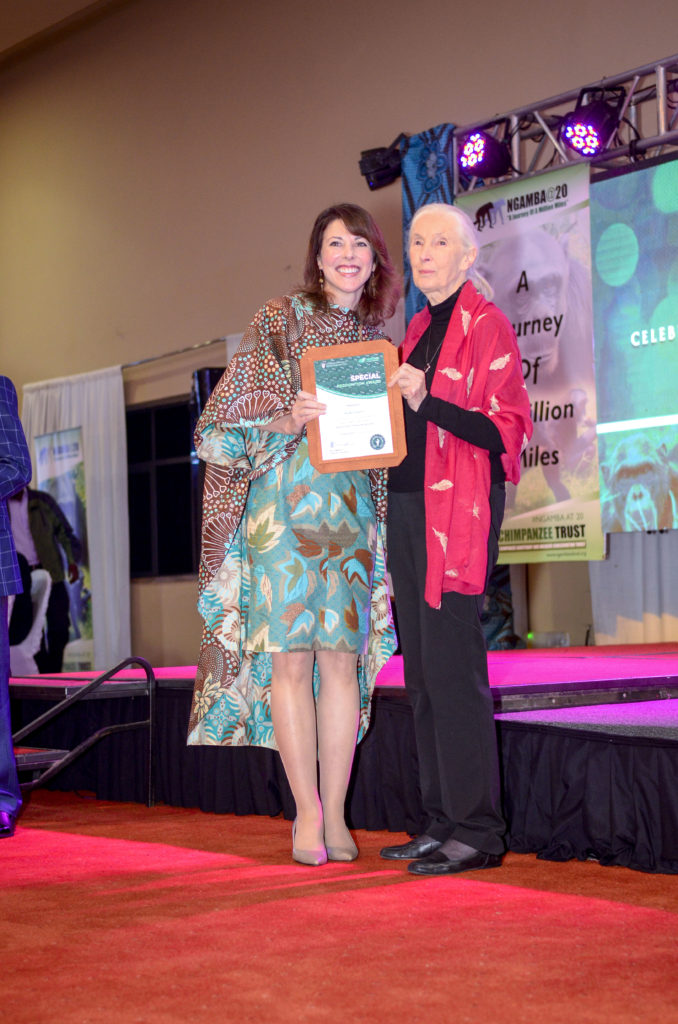 Children of Conservation founder and board member, Michele Stumpe, was honored at a lavish ceremony in Kampala, Uganda in June, for her services to chimpanzee conservation and care.
Michele, who started Children of Conservation nine years ago with her husband, Kerry, aims to conserve African endangered wildlife by supporting the communities of people living around habitats and sanctuaries.
She traveled to Uganda with other members of Children of Conservation's board to visit Ngamba Island Chimpanzee Sanctuary in Uganda where 55 children of sanctuary workers receive scholarships to attend school because of her good work. During the visit, Ngamba Island celebrated its 20-year anniversary and held a gala attended by the First Lady of Uganda and renowned chimpanzee expert and conservationist, Dr. Jane Goodall. Michele was awarded a special plaque at the event for her services as a trustee of Ngamba Island, and it was presented to her by Dr. Goodall.
Michele, a resident of Atlanta, said: "It was an honor to meet Dr. Goodall. She's been a hero of mine for many years and her work for animals in Africa and beyond is so inspiring. I've been working with apes since I was 12 years old and her work with chimpanzees has been so pivotal to helping us learn how to try and help this endangered species.
"I am a recent addition to the board of Ngamba Island Chimpanzee Sanctuary and Wildlife Conservation Trust and so to receive this award was a lovely surprise. I am honored to work with such an amazing organization to complement their work with the animals with our own projects to enrich the lives of the local community"
Ngamba Island is home to 49 orphaned chimpanzees. Many of the chimps have been rescued from circuses and other forms of exploitation and others have been seized by customs officials during attempts to smuggle babies out of the country for sale on the exotic per market.
Children of Conservation is currently raising money to support the impoverished community around Ngamba Island and Michele hopes to build a school and health center for people who would otherwise receive no education or health care. She says: "With your help, we can make life better for the people who live around the chimpanzee sanctuary and can give their children a brighter future."